CNC Retrofits & Machine Tool Rebuilds

CNC Retrofits: Making Old Machines Like New
CNC Engineering is the largest and most experienced FANUC retrofitter in North America. Our customers range in size from small manufacturing firms to Fortune 500 companies like Boeing, GE, General Dynamics and UTC. We know how important your machine is, so we take extra care to retrofit as quickly as possible and ensure the machine will run better than ever; for many years to come.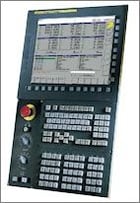 The following information highlights several important phases of a retrofit, all of which are critical for success:
Engineering
If a system is not properly engineered from the start, it has little chance of running without issues for very long, if at all! We guarantee that your new FANUC CNC system will run better, faster, and be more productive.
Installation
Quality installation is critical because this is not a plug-and-play retrofit! Our installation teams live-and-breath FANUC Retrofits; that's all they do and they're the best in the business. Your installation will also be expedited to reduce machine downtime.
Additional steps are taken to ensure that wire numbers and terminal strips are clearly marked, wire terminations are secure and all codes and safety guidelines have been followed. CNC Engineering, Inc. is certified to produce UL approved Industrial Control Panels.
Startup & Debug
Making your machine work better is our main goal! FANUC controls have many powerful options and we will work together to integrate these to your machine and manufacturing process.
Training & Documentation
Our hands-on Training and detailed Retrofit Documentation will ensure that you get the most out of your new FANUC CNC system.
Accessories to Further Increase Productivity
We know that competitive manufacturers are constantly looking for new ways to produce more with less, so we offer a variety of value-added solutions that can increase productivity, without the need to increase personnel:
---
Machine Tool Rebuilds for High Value CNC Machines
Sometimes, a FANUC CNC retrofit and a complete or partial mechanical rebuild are required to maximize machine tool productivity and reliability. In these cases, we work with our rebuild partners to design the perfect solution for your machine tool and manufacturing process.
Basic Rebuild
A typical rebuild includes a CNC Retrofit, plus the repair/replacement of worn mechanical components like ballscrews, lubrication pumps, safety interlocks, guards, hoses, belts and machine wiring.
Advanced Rebuild & Remanufacturing
A more advanced remanufacturing project involves a CNC Retrofit, plus repairing/replacing mechanical components to original, factory specification or better. Most remanufactured machines will be completely disassembled, cleaned, inspected, repaired and painted. All pneumatic, hydraulic and electrical system will be updated.