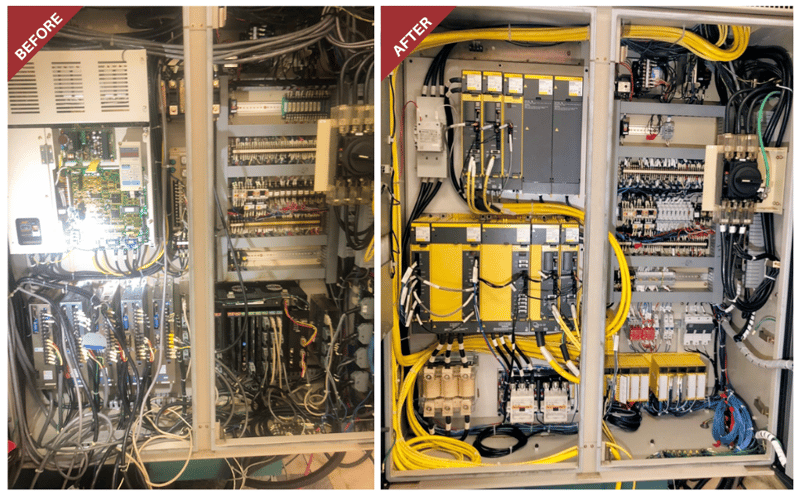 Quality workmanship is the cornerstone of a successful FANUC CNC Retrofit project. The entire project can be jeopardized if you don't pay attention to the details, develop the best solution for each individual machine, and follow industry standards.
The before-and-after photos below show the Electrical Enclosure of a Matsuura MC-800VG machining center that was retrofitted with a FANUC 0i-MF Plus control package. By taking the time to clean up the existing cabinet the rest of the installation went smoother, problems during startup were significantly reduced, and troubleshooting was considerably easier.
Our engineers are experts at planning for these situations. They analyze existing cabinet components, determine space requirements, and plan CAD layouts for new electrical components and wiring. This Matsuura retrofit called for discrete mounting of the components, mixing new hardware with a few older items, within the existing electrical enclosure. A discrete mount approach was best for this machine primarily because the custom sized cabinet is attached to the machine.
For other machines, the best approach might be to supply new enclosure panels that are installed in an existing electrical enclosure or to replace the entire electrical cabinet altogether.
All FANUC Retrofit projects should be engineered with detailed schematics and proper documentation. UL, ISO, and NEC wiring guidelines should be adhered to when applicable.
Do you have a machine that might be ready for a FANUC CNC Retrofit? Give us a call or click below to discuss your options!
View Article List