FANUC Tech Bulletin Issue 5 - August 2012
---
In This Issue:
Feature Story: Adaptive Control for Grinding
Fanuc Tips & Tricks
Open Vision Cell Control Software Upgraded
---
Adaptive Control for Grinding
One use of Adaptive Control can be the regulation of feed rate override to maintain constant spindle horsepower during the machining process. This improves process control and can reduce cycle times and tooling costs. Usually, Adaptive Control is achieved by integrating third party hardware devices into existing machine control systems.
Adaptive control systems first appeared in the mid-1980's, as many high production grinding processes upgraded to CBN (Borazon) wheels from aluminum oxide wheels. The older aluminum oxide wheel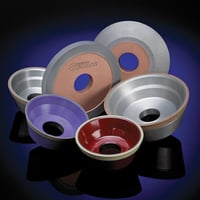 had to be dressed (conditioning) at least once per cycle where the newer CBN wheels allowed multiple cycles to run without dressing the wheels. Often, a skip dress amount was implemented to allow dressing based on a fixed number of cycles. Because the CBN material varied from wheel-to-wheel, the skip dress amount was usually set at a conservative figure to account for the variability between wheels.
To better accommodate the variability between wheels, the first adaptive control systems monitored the cutting characteristics based on wheel load and initiated a wheel dress as it sensed the grinding wheel loading up. Process control based on a programmed feed rate was therefore replaced with process control based on a constant wheel load power setting. The dress frequency changed as the process demanded, reducing tooling costs.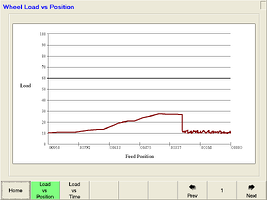 By monitoring wheel load, adaptive control also enables additional process functions, such as gap elimination. The wheel load is monitored during the first approach to a newly loaded part. When a change in wheel load is detected, the feed rate changes from a faster gap elimination rate to a slower first programmed feed rate. This eliminates the need to set feed rates based on a worst-case stock condition and can greatly reduce cycle time.
Wheel load monitoring can also support crash protection. While monitoring grinding wheel load, if a value exceeds a predetermined not to exceed value during the machining process, the machine will be stopped, thus minimizing damage due to programming errors.
As adaptive control systems have advanced, other devices have been integrated into the machining process in place of-- or in conjunction with—the wheel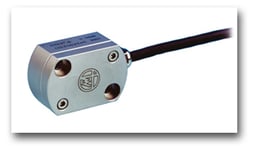 load monitoring devices to enable further process optimization. These include load cells and acoustical emission (AE) sensors. Often, two AE sensors are used in adaptive control applications for grinding. One AE sensor can be embedded within a dressing spindle (see illustration). Using sound, this sensor allows the software to detect when the wheel actually touches the tool in the dress cycle. This allows less wheel to be dressed (extending wheel life) and faster approach rates to be programmed (speeding up the cycle).
On large diameter wheel applications, wheel load changes are not as easily monitored with wheel load. A second, fluid-type AE sensor can be integrated for gap elimination, in place of wheel load monitoring. The fluid sensor is coupled to the work coolant and detects contact through the coolant. As soon as the wheel makes contact, the feed rate is changed.
As with all machine tool technology, Adaptive Control will surely undergo a number of advancements in the future. Today, manufacturers are requesting not just process control enhancements, but also setup reduction through the use of power monitoring, AE sensors and other devices. Requests include an auto setup function where the machine would automatically find the dresser and verify both wheel size and part location without operator intervention. The goal is to change over to a new process, load the tooling and part then simply press one button to have the machine take over.
By specifying G53 in your program the machine axes position to the same location in the machine coordinate system regardless of work offset selection. This could be used as a safe tool change position when a part or rotary table may cause a collision.
Example:
G00G90G53X10.0000Y3.0000

Open Vision™ Cell Control Retrofit Solution
CNC Engineering, the leading FANUC Control Retrofitter in North America, has substantially updated its Open Vision™ Cell Control Retrofit Solution. Open Vision™ Cell Control retrofit packages include an improved operator interface with the ability to control multiple machines and pallets, running on a new touch screen industrial PC connected via Fanuc HSSB. A new Fanuc Powermate i-D control with a new Fanuc servo system replaces the existing pallet shuttle hardware. The new system offers easier operation and less downtime; plus better access to training, service, support and parts.
The Open Vision™ Cell Control software package was originally designed to meet the needs of Makino MMC operators. While the new software emulates existing MMC functionality in an easy-to-use, touch screen application it is not limited to Makino and can be customized for other makes of manufacturing cells.
Open Vision™ Cell Control software features include:
User-friendly HMI: The graphical user interface of Open Vision™ Cell Control Software allows the operator to easily set and view the status of the pallets and pallet stations. Pallets can easily be marked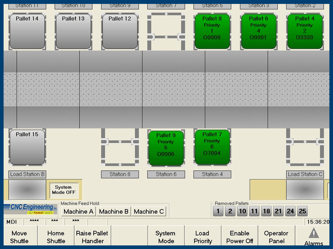 as "Ready to Load" and their load priority can be easily set or changed to alter the order in which pallets are processed.
Improved Pallet Placement: Makino's MMC system required a pallet to be moved to the workstation before it could be marked as "Ready to Load" and made available to the machine. This is no longer necessary, as any pallet can be moved directly to the machine from any pallet station.
Flexible Workstation Settings: The original MMC configuration designated two pallet stations as workstations, thereby limiting the number of potential pallet stations. The functionality of these two stations can now be determined by the operator and set with a simple click of the mouse (or touch of the screen). These stations can be designated, independently, as either a pallet station or a workstation.
Home/Random Pallet Placement: The new "Random" configuration setting allows the operator to specify whether a pallet can be moved to any available pallet station, rather than having to be moved to its specific, "Home" station. The "Random" configuration can result in faster Cell Control operation and increased spindle utilization.
Direct Machine-to-Workstation Pallet Placement: Another new configuration setting allows the operator to specify that pallets should be moved directly to any available workstation upon being removed from the machine. This allows the operator to more easily access the processed pallet and perform any post-machining operations.
Manual Machine Functions: The system's Operator Panel allows the operator to move the shuttle in MPG and Jog modes. It also allows the operator to raise and lower the pallet on the shuttle. These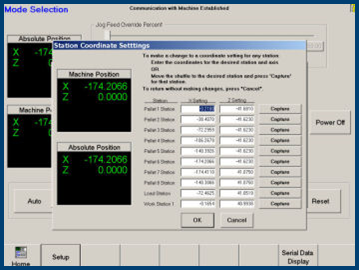 functions provide a way of manually moving pallets from station-to-station, including the load station, without being in Auto mode. They also aid in the setup of the machine.
Improved Setup Procedure: Using the manual mode of the Operator Panel, the system's setup screen allows for capturing the shuttle's position at the press of a button. This means quick and easy establishment of the shuttle position at each of the pallet stations, should a change be necessary due to mechanical changes or repositioning of the stations.
Diagnostics/Troubleshooting: Access to the Fanuc control ladder, settings and other diagnostic tools is provided through the use of Fanuc HSSB-based software, including the Ladder Editing Package and CNC Screen Display. This access will help in any problem resolution or changes that may be required in the future.
View Article List