FANUC is the world leader in CNC and factory automation, with more than 3 million CNCs installed worldwide. The 3xi, 0i-F and 35i Series CNC systems boast the industry's longest Mean-Time-Between-Failure rate and a lifetime commitment to replacement part availability and support.
New features introduced to the FANUC Series 0i-F CNC platform bring it closer to the Series 3xi family of controls, in terms of standard features & options. By comparison, the FANUC Series 35i platform, introduced in 2012, is primarily a motion control system. Naturally, there are significant differences between these FANUC CNC systems which should be taken into consideration when choosing the best control for a machine tool retrofit.
FANUC Series 30i/31i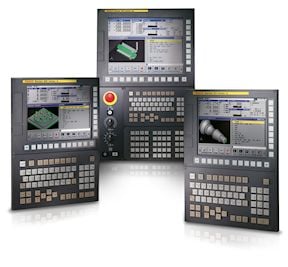 The 30i/31i controls, FANUCs most powerful controls, are designed for the most complex machine tools. The primary difference between the two is that the 30i control is capable of supporting 32 axes, while the 31i control offers support for just 20 servo axes. Both controls offer a slew of additional options which must be purchased separately. Common options include 8mb of part program storage, 999 tool offsets, Advanced AI Contour Control 2 (AICC2) for high speed applications, a wide range of 5-axes options, plus many others. The 30i and 31i controls are usually used on machines with 5 or more axes or for machines running demanding applications.
FANUC Series 32i
The 32i series control is the least powerful control of the 30i/31i/32i family. Like other 30i series controls, most of the 32i options are offered at an additional cost. Similar to the 0i below, the 32i CNC only offers 4-axis simultaneous machining. With the increased power of the 0i-F control, there are very few reasons to select the 32i control for a machine tool retrofit.
FANUC Series 0i
Today's 0i-F control, part of the 0/0i family, is the most popular FANUC control and probably the best value FANUC control. The 0i-F control comes with many standard features, supports 9 servo axes (although only 4 simultaneously), up to 2MB of part program storage, a maximum of 400 tool offsets and AI Contour Control 1 (AICC1). While this latest version of the 0i CNC has more features than ever before, it does not support simultaneous 5-axis machining and many high-end control options are not available. Machining Centers with 4 axes or less and the vast majority of lathes are good candidates for a FANUC 0i control retrofit.
FANUC Series 35i
The 35i control platform is the most basic and most affordable CNC in the line-up, supporting 16 servo axes, up to 1mb part program storage, and a maximum of 200 tool offsets. As you might expect, the 35i platform does not support AI Contour Control, simultaneous 5-axis machining or even cutter compensation and tool nose radius compensation, making it very limited in its applications. When partnered with a grind-specific front end software package like, Open Vision™ Grind, the 35i control is a good fit for simple ID/OD grinding operations. For these applications, Open Vision™ Grind handles most of the grinding features and the 35i control is used as a simple motion control.
Of course, manufacturers should never have to decide between the available CNCs. An experienced FANUC Integrator should be able to easily determine which control is best after reviewing the machine and manufacturing process.
CNC Engineering, Inc. is a FANUC Authorized CNC Systems Integrator, FANUC Robotics Authorized Systems Integrator and the exclusive Northeast Region Distributor-Integrator for Renishaw. Founded in 1983, the company has retrofitted hundreds of CNC grinders, lathes and mills. The company can be reached at 860-749-1780 or by visiting their web site at www.cnc1.com.
View Article List