Cutting Tool Engineering Magazine - Author: Matthew Jaster
---
In the market for a rotary table? The checklist of requirements starts with speed, accuracy and rigidity. Will it be used for contour machining? Do you need high-speed indexing for high-volume parts? What features and capabilities will help in the short and long term within the industries your company serves? CTE spoke with multiple rotary table manufacturers to discuss market trends, product innovations and add-ons that can improve overall machine tool performance.
Machine-Specific Requirements
In addition to a standard rotary table, many manufacturers require additional system features to meet the special machining requirements necessary in production facilities, according to Randy Conley, rotary table product manager at CNC Engineering Inc., Enfield, Conn. "Today's rotary table customers typically look for a turnkey package that includes an additional axis interface, control options, rotary table hardware, installation, training and a complete documentation process. We also have to offer accessories like workholding fixtures, tailstocks, risers and hydraulic power units," he said.
Off-the-shelf rotary tables are not always enough as customers seek equipment made specifically for their individual machining applications and the accessories. "For example, the application may require an outboard support spindle and a trunnion plate. A subplate or riser may be required. These parts would all be designed based on a particular manufacturing process for a particular machine," Conley said.
---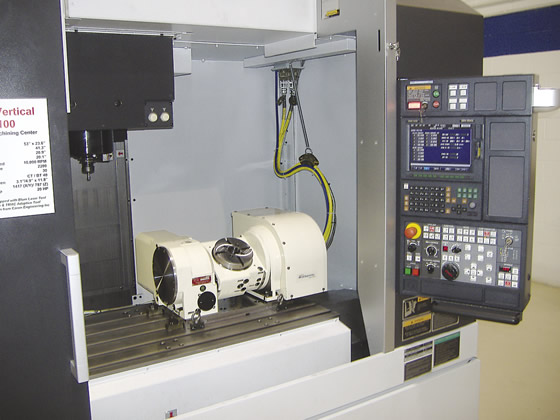 CNC Engineering's custom rotary table comes with a single PVC cable with a waterproof connector that can be connected or disconnected in a few seconds with a half turn. This cable has proven to be highly durable and remains flexible after years of use. Image courtesy CNC Engineering.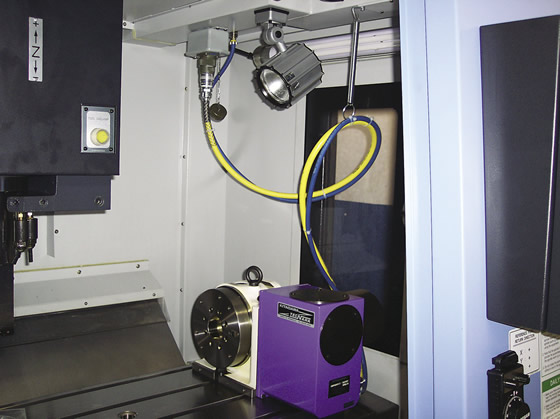 Many CNC Engineering customers want to use old rotary tables on new and old machines, according to the company. Image courtesy CNC Engineering.
---
Slight Modifications
Conley said small improvements through the years have been the norm for rotary tables. "Most commonly, that has meant higher speeds and greater clamping torque. Many rotary table manufacturers offer worm wheel models that are able to run at 100 rpm or more, within a limited-duty cycle. Pneumatic clamping torque is often in the range now that could only be provided with a hydraulic clamping system just a couple of years ago," he added.
Many manufacturers offer direct-drive rotary tables that eliminate the worm gear (see chart on page 66). "These tables can offer higher speeds than the traditional gear drive tables but, depending on the application, the drive torque may be lower. Furthermore, users may find it necessary to retune the servodrive for different applications to maintain optimal performance and stability," Conley added.
"These direct-drive rotary tables specialize in eliminating backlash and can provide a stiff mechanical system for highly dynamic applications," said Gregory Kane, marketing manager at IntelLiDrives Inc., Philadelphia. "Integrated with precision bearings and ring encoders, these tables provide high performance for indexing applications compared to other mechanical transmission rotary systems."
Today's rotary table users seek products that are accurate, efficient and easy to use, according to Frank Cerrito, general manager at Koma Precision Inc., East Windsor, Conn. "Our customers are looking for automatic fixturing to increase production and reduce errors, for example. They're asking for higher speeds, higher accuracy and less backlash."
These tables are being purchased for old and new machine tools, according to Conley. "Often our customers would like to be able to use an older rotary table on a new machine, as well as an older machine. Depending on the control vintages, we can often accommodate that need," he added.
---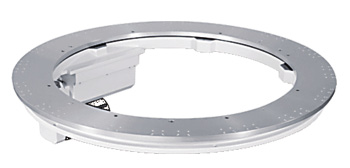 The Weiss rotary indexing ring has a large central opening to allow a customer to position all tooling and cables internally. Image courtesy Weiss North America.
---
For Your Consideration
Additional considerations play a part in choosing the right rotary table. This includes everything from number of axes, position requirements, faceplate size, motor location and energy requirements. "A customer may need a low-profile rotary table that reduces rotor inertia, improves start/stop behavior and enhances velocity control compared to conventional rotary systems," Kane said. "This is due to the lightweight, direct-drive motor, resulting in precise bidirectional speed and position control, which is critical for high-speed motion contouring."
Weiss North America Inc. says its index tables are sized properly so the use of an overload clutch is not needed in a jam-up situation. Overload clutches increase the maintenance cost of the table, according to John Treter, the Willoughby, Ohio, company's product sales manager.
"Our tables are also filled with oil at the factory and will never need to be changed," Treter said. "Because of these two differences, Weiss is a maintenance-free solution. We also manufacture risers, tool and stationary plates and machine bases. This saves our customers the hassle of purchasing multiple components from multiple vendors."
Choosing between an incremental or absolute encoder will vary based on the application. "The major advantage of an absolute encoder versus an incremental encoder is that the absolute encoder keeps track of its position at all times and provides it as soon power is applied," said IntelLiDrives' Kane said. "This feature is particularly useful in applications where the equipment has its power turned off between uses."
The size of the through-hole is an additional factor. "A table with a large center hole allows [running] routing cables and pressure/vacuum lines through the aperture, placing test objects into the aperture, and inserting work tools and installing slip rings," Kane said.
Conley believes cable management for pallet-changing machines is often the most challenging part when integrating a rotary table.
---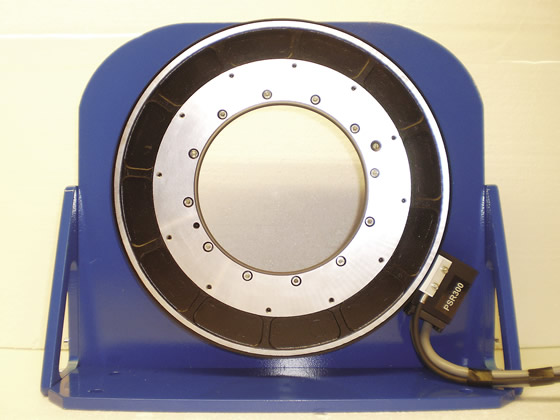 The Planar ServoRing from IntelLiDrives is designed to eliminate backlash, friction and wear problems associated with worm, gear and belt drives. Image courtesy IntelLiDrives.
---
"Sometimes there may not be a pre-engineered solution for keeping a rotary table connected to the control throughout a pallet change," Conley continued. "Designing and building a system for a particular machine model is often more work than a customer wants to take on. CNC Engineering has developed several types of cable management systems. If we're dealing with a new model, we typically customize one of our existing systems to adapt it to a new machine configuration."
Weiss North America introduced the first rotary indexing ring, which features a large central opening. "This allows the customer to internally position all tooling, cables, etc. and to work from the inside out, saving sought-after floor space," Treter said. "From there, we moved to servomechanical, offering another option utilizing the same design yet incorporating the flexibility of servotechnology."
Remote diagnostics is another area gaining momentum in the industry, according to Kane. More manufacturers are beginning to look at monitoring equipment that can help prevent production downtime and eliminate costly repairs. These capabilities can be performed over the Ethernet or on mobile devices. With the release of Weiss Application Software 2 early this year, a remote diagnostic portal for a Weiss technician has been added. "This helps ensure a quick fix for the customer if something were to happen," Treter said. "It is very simple to email a Weiss technician the program parameters to be diagnosed."
Quality and Service
The individual needs of each user will determine what type of services and accessories make the most sense. Our experts stressed the importance of thinking ahead, keeping in mind that the jobs currently taking place on the shop floor may not be the same jobs 2 years down the road. Therefore, flexibility is the key to long-term success.
---
Rotary tables: worm vs. direct drive
Koma Precision, which distributes Tsudakama rotary tables, offers a detailed comparison chart (www.komaprecision.com) for those interested in some of the advantages and disadvantages of a worm wheel vs. a direct-drive system. Here are some of the differences that distinguish the rotary tables from one another.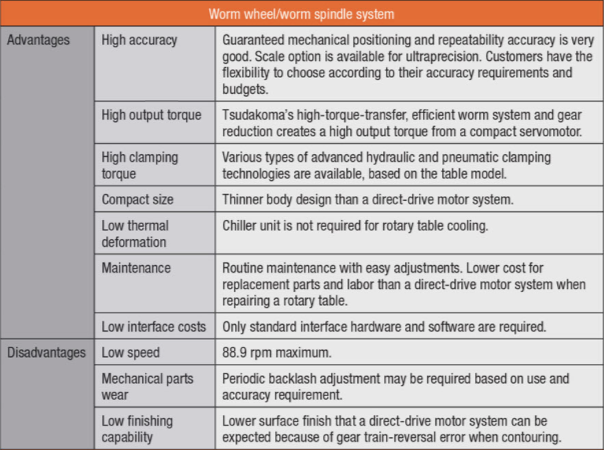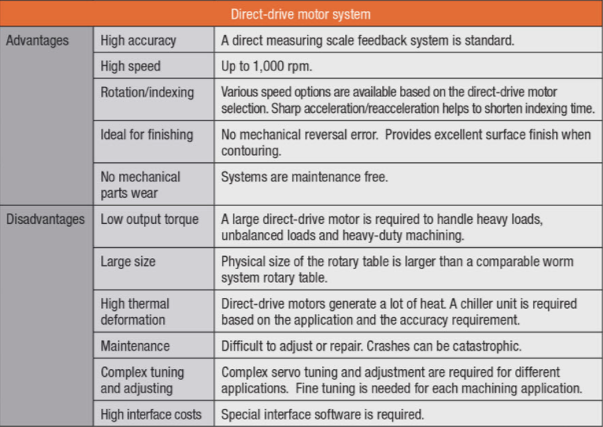 Table courtesy Koma Precision
---
Contributors
CNC Engineering Inc.
(860) 749-1780
www.cnc1.com
IntelLiDrives Inc.
(215) 728-6804
www.intellidrives.com
Koma Precision Inc.
(800) 249-5662
www.komaprecision.com
Weiss North America Inc.
www.weissna.com
(888) 934-7762
View Article List