On-Machine Measurement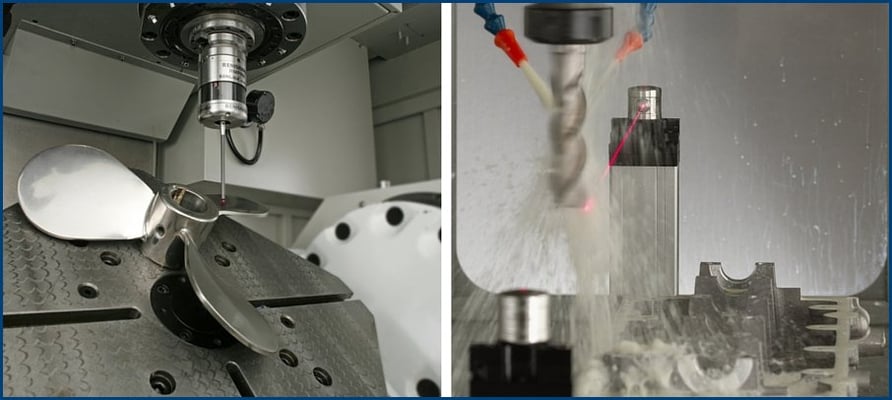 On-Machine probe and laser measurement systems increase productivity by inspecting parts, compensating for work piece variances and qualifying tools (tool setting) with minimal or no operator intervention.
CNC Engineering has installed thousands of On-Machine Measurement systems throughout North America. In 2009, we were recognized as the exclusive Northeast Renishaw Distributor Integrator (RDI). Our turnkey On-Machine Mesaurement packages include hardware, interface unit, software, professional installation, and thorough training; tailored to meet your needs.
Find Renishaw Parts & Repair Here >>

On-Machine Measurement Installation
Improper installation can cause unexpected machine downtime or bad measurements for a number of reasons. Below are some examples of the high standards CNC Engineering applies to all of our On-Machine Mesaurement system integrations:
Wires and cables are run within machine electrical troughs or conduit, depending on environmental constraints, and properly grounded to prevent the chance for erroneous probe triggers or electrical shorts.

Wires and cables are terminated properly on labeled terminal blocks. Wire nuts or butt splices are never used.

Interface modules are always secured to a panel and never placed on the cabinet floor where chips and tools can cause an electrical short.



Custom Macro Programming
Through the use of variables and conditional instructions, custom macro programming allows you to automate machine tool operations beyond the capabilities of traditional G-code programming. Custom macro programming is also the backbone of any high-level automated probing solution for CNC machine tools.
The application engineers at CNC Engineering, Inc. have decades of experience with custom macro programming. Our in-depth knowledge allows us to create macro programs that can:
Reduce set-up time

Reduce part-to-part load time

Improve part inspection

Downloads
Photo Gallery