Featured in Northeast Manufacturing News (www.mfgnewsweb.com)
---
For most manufacturers, machine tools represent significant capital investments and must maintain their viability for many years. Upgrading to the latest control technologies via a CNC retrofit is one way companies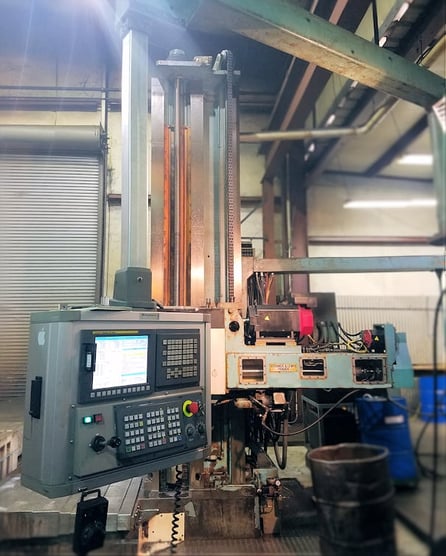 can extend the productive life of their machine tools, decrease the mean-time-between failure (MTBF) and mean-time-to-repair (MMTR), lower energy costs, reduce cycle time and achieve a new level of manufacturing data accessibility.
CNC Engineering, Inc. has been retrofitting machine tools for more than 30 years. In that time, the company has installed FANUC controls on nearly one-thousand machine tools including Grinders, Lathes, Machining Centers and specialty machine tools. The company's annual retrofit rate has steadily increased over the years and now exceed fifty retrofits per year; making CNC Engineering the largest retrofitter in North America.
DESIGN
CNC Engineering's unique Certified Pre-Assembled Retrofit (CPR) process has been developed and tested to ensure the highest quality product possible. A customized AutoCAD software suite is the foundation for the CPR process and ensures that the engineering team creates standardized schematics which saves time and increases efficiency. PLCs are designed in a modular, building-block, system to reduce engineering time and allow for faster startups. CPR's are also designed with a focus on operator efficiency and machine up-time. These elements allow CNC Engineering to supply the highest quality FANUC retrofit packages, designed to increase productivity, at competitive prices.
HARDWARE
CNC Engineering retrofit solutions are designed using the most reliable control on the market today, FANUC, for the following reasons:
FANUC sells, by far, more controls than any other manufacturer in North America and the world

The proliferation of FANUC controls means that most operators, programmers and maintenance personnel are already familiar with the technology and require less training

FANUC controls have the highest mean-time-between-failure (MTBF) rating at 27.8 years. That means you can go decades without a failure or a need to repair the CNC hardware

FANUC maintains a 25-year replacement part availability commitment
INSTALLATION & STARTUP
Whereas most machine tool retrofitters bring the machine to their facility to install the retrofit, CNC Engineering specializes in in-field retrofits. Their experienced and professional installation teams travel the country, installing CPR packages. When possible, the installation team will work overtime, even weekends, to quickly install the Certified Pre-Assembled Retrofit package with minimal downtime. Each CPR package is fully engineered, assembled and tested at CNC Engineering to minimize machine downtime. At startup, each function on the machine is thoroughly tested to insure it is working properly. Operators & Programmers are consulted to make sure the control parameters are set to their satisfaction and FANUC servo turning is used to guarantee the servos are performing at optimum levels.
TRAINING & DOCUMENTATION
At least one day of operator training is included with each CPR. If needed, additional days can be supplied. Optionally, manufacturing specialist can assist programmers & operators with programming, options and probing applications.
A CNC Engineering retrofit is not complete until a full set of documentation is delivered to the customer. Without proper documentation, repair of a simple problem can become a nightmare.
To assist manufacturing personnel with maintenance issues, CNC Engineering keeps exact copies of each retrofit documentation package on our server, backed-up daily. In many cases, the documentation supplied by CNC Engineering surpasses what the OEM originally supplied.

MACHINE TOOL ENHANCEMENTS
CNC Engineering's core competencies extend beyond FANUC control retrofits to include Open Architecture systems, Rotary Table Integrations and Machine Tool Probe Integration's
Open Architecture - Designed specifically as a PC based front-end for FANUC controls, Open Vision™ Grind

and Open Vision™ HMI simplify machine operation and maintenance while adding functionality and flexibility. Customized applications and special screens can also be developed to meet the unique needs of each machine tool or manufacturing process.

Rotary Tables - Complete turnkey rotary table and additional axis integrations to expand your machine tool capabilities and reduce setup times. Fourth & Fifth Axes can be added to the control as well as a variety of rotary tables with accessories.

Probes and Lasers - Probing solutions inspect parts on the machine, set tool length & diameter offsets and check tools for wear or breakage. CNC Engineering, Inc. is the exclusive Northeast Renishaw Distributor Integrator (RDI), offering Renishaw parts, service and turnkey integration solutions throughout North America. They can also customize Macro routines and training for specific manufacturing applications.
View Article List