Challenge:
Jim Mokoski, a manufacturing engineer with Pratt & Whitney Aircraft in Middletown, Conn., was looking to replace an aging CNC on a seven-axis Butler Newall grinder. The grinder, one of two in his department, is used to finish-grind blade tips on jet engine turbine rotors. This grinding process is the last step before a rotor worth thousands of dollars, is installed in an engine. The other grinder had a GE Fanuc 150-MA control with some limited automatic software. Mokoski wanted the older machine upgraded, having at least the capabilities of his newer machine. Both grinders already had laser-measuring devices that accurately measured each blade tip under rotational load. With this laser data, machine operators used a complex set of rules to analyze the blade measurements, determining the grinding depth of each stage and whether or not to replace blades that were out of range. Once grinding started, operators manually controlled the grinding while observing the laser measurements to make sure the end results stayed within limits. This process was slow and subject to human error.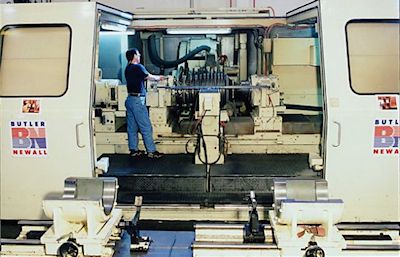 Resolution:
To evaluate replacement CNC control options, Mokoski met with CNC Engineering, of Enfield Conn. CNC Engineering recommended a GE Fanuc 16 MB control with GE Fanuc's Open Architecture (HSSB) option and a touch screen PC front-end. With this configuration, CNC Engineering proposed to integrate the laser device with the PC, automate the complex analysis of the blade tip measurements, and use the results of this analysis to automatically control the grinding process. To work properly, the proposed system had to accomplish several tasks simultaneously, and a PC front-end would make it possible. For example, data from the laser-measuring device had to be analyzed prior to grinding and then real-time monitoring of laser data was necessary to control the process. Also, operators needed real-time graphical representation of the blade tip measurements as feedback on the operation's progress. Designers originally focused on automating the analysis of the laser measurement data and controlling the grinding process. Once the system design was under way, however, they quickly realized that the PC could offer even more performance enhancements. For example, a database of required measurements for each different rotor assembly could be stored in the PC (or a central file server) and be made immediately available by choosing an assembly number from the PC touch screen. This would eliminate manual data input and reduce the potential for operator error. At this point, Mokoski was convinced of the benefits of the retrofit proposal and decided to have both machines retrofitted with the new controls.
Overall Benefits:
The first system was finished in December 1997 and the results were more beneficial than expected. Total process time reductions for various rotor assemblies ranged from 25% to 80%, and scrap was practically eliminated. For one assembly type, the process time went from 2 ½ hours to ½ hour. Computer analysis of blade tip measurements saved considerable operator time and virtually eliminated operator calculation errors. Rapid indexing of the machines to the initial grinding position eliminated wasted time grinding air. And automatic calibration and axis referencing kept the system at maximum performance levels. In addition to controlling the process, the PC provides full reporting of the original measurements, interim grinding values, and final inspections. The touch-screen PC is easy to use, and the menus are specific to the grinding process. This minimizes training time and keeps the operator focused. "By using the GE Fanuc Open Architecture option and a custom PC-based operator interface," Mokoski says, "CNC Engineering was able to develop a viable cost effective solution for my needs. This could not have been accomplished with a retrofit based solely on a traditional closed control."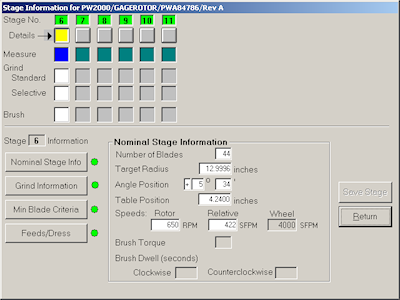 Custom set-up screen defines each stage of the high compression rotor assembly to be ground. It also defines the manufacturing processes which are allowed on each stage.
View Article List